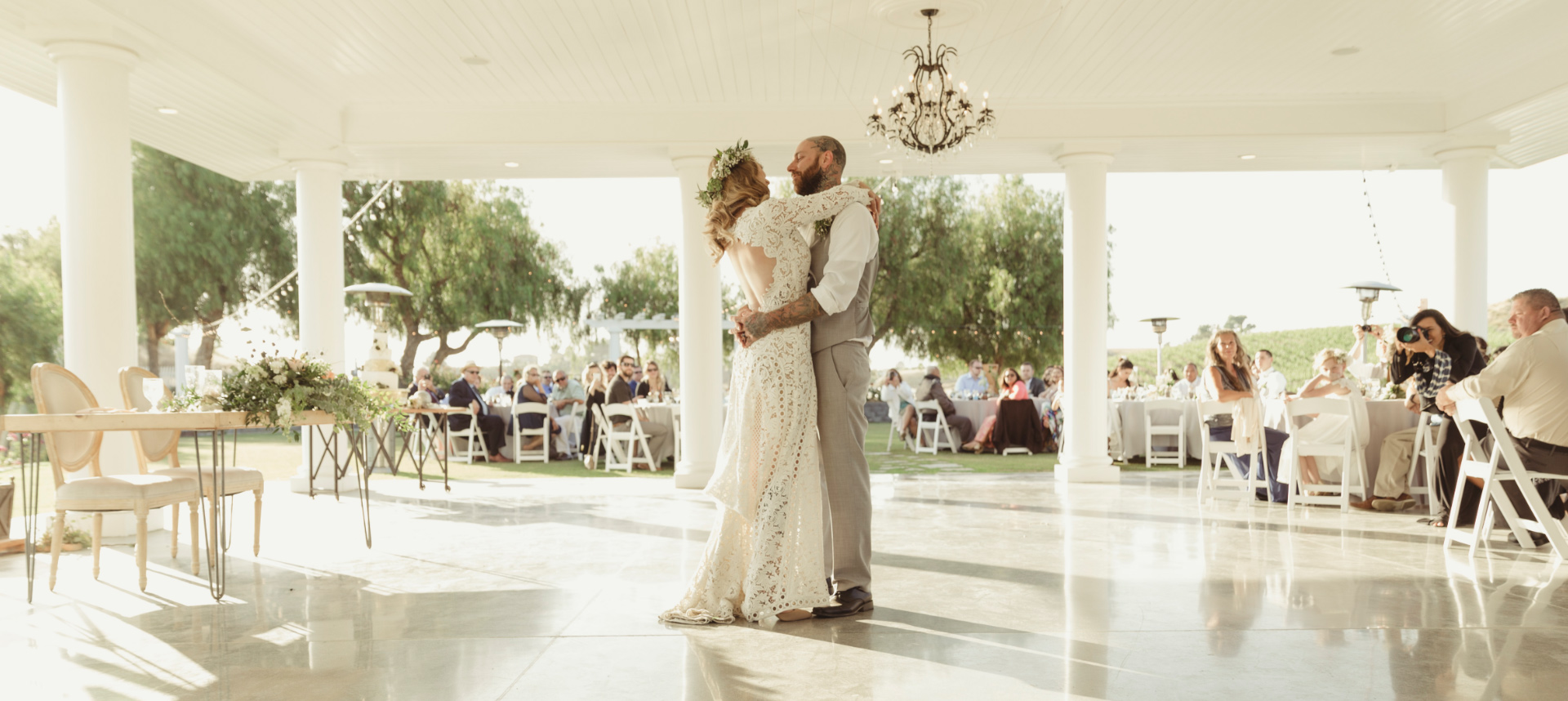 YOUR DAY AT MORGAN ESTATE
A private estate situated on 20 acres for the couple that wants a personal, private and romantic setting.
Your wedding will be the only event on the property for the entire day.
Venue Only Flat Rate $10,250.00
Bar service package must be booked through Morgan Estate
$2,000 deposit required to hold a date
Your wedding party and guests will be the only ones on our 20 acre property for the day
Access to the property at 10:00 am until 10:00pm
Unique photo locations on property including vineyards, fruit or chards, grand southern staircase, southern rocker clad porches, rose garden and more
2 hour use of facility for engagement photos by appointment.
Use of our beautiful 500 sq. foot bridal suite with full bath, professional makeup and hair studio, sitting and changing area and shaded patio with vineyard views
1 hour wedding rehearsal the day before the wedding
On site coordination team for rehearsal, day of event and assistance along the way
New in 2019 use of our custom airstream grooms quarters on the other side of the property for privacy
Ample parking with parking attendants and golf cart access for your guests
Several nearby Air B n B's to choose from
~ Cascading lawn with climbing rose arbor for your alter
~ 360 degree views
~ Access to the estate home with designated areas 30 minutes before and after the ceremony for photos
~ 200 Classic white chairs total for the ceremony
~ Use of the grand staircase for backdrop of wedding party 'grand entrance '
~ Ivory parasols for your guests
~ Custom guest book table
~ Reception area 3,000 square ft covered Pavilion that matches the estate design
~ Fabulous hand crafted crystal chandeliers
~ Use of built in sound system
~ Built in restrooms
~ 30ft gorgeous built in bar
~ Use of video system if desired
~ Cozy fire pit with a view
~Sweetheart table
~ Wine barrel cake table
~ Reception tables ( round 72 inch ) with standard to the floor linens and napkins (upgrades available)
~ Cake Cutting included with acrylic plates and forks
~ Custom 3 foot wrought iron candelabras and electric candles included for reception area
~ Use of 8 stylish out door heaters
~ All surrounded by a festoon illuminated lawn and rolling vineyard hills
~ On site security
~ Full set up and cleanup of facility included
Venue & Catering included - $118.00 per person
Saturday 135 person minimum
Friday 115 person minimum
Sunday 115 person minimum
Mid Week 115 person minimum
( Children 0-3 No Charge Children 4-10 $97.00 PP )
~ Full set up and cleanup of facility included
Includes: White China Plate or Pie Tin plate, Stainless Fork & Knife,
Linen Napkins (Any Color), and Wait Staff
Choice of Two Appetizers
Assorted Grilled Sausages ~ Bruschetta ~Antipasto
Skewers ~ Sweet & Sour Meatball ~ Vegetable Platter
Greek Platter ~ Cheese & Cracker Platter ~ Caprese
Skewers ~ Potini Bar ~ Buffalo Hot Wings
~ Sweet Honey Wings ~
or
Charcuterie ~ (1)
A beautiful assortment of meats, hard and soft cheeses,
crackers, nuts, dried fruit,
Jalapeno Jelly, Muffuletta, Olives, Pickled Okra
Choice of Two Entree's
Grilled Tri-Tip ~ Boneless Chicken Breast & Thighs
Pulled Pork ~ Pork Tenderloin ~ Grilled Cod ~ Baby
Back Ribs ~ Beef Ribs ~ Mahi Mahi
Choose Two Sides
Garlic Mashed Potatoes ~ Mac-n-Cheese ~ Rice Pilaf
Loaded Mashed Potatoes ~ Ranch Beans Bourbon Baked
Beans ~ Potato Salad ~ Macaroni Salad ~ Ziti Pasta Salad
Choose One Salad
Caesar Salad ~ Baby Greens, Green Apple & Feta
Garden Salad ~ Spinach Strawberry Salad ~ Coleslaw
Jalapeno Coleslaw ~ Baby Greens, Dried Cranberry, Feta
Greek Salad ~ Italian Chop Salad ~ Fresh Fruit Salad
Sliced Watermelon ~
Choose One Vegetable
(may sub for a Salad or Side)
Corn on the Cob ~ Sautéed Green Beans ~ Broccoli,
Carrot, Cauliflower Sautee'
Summer Squash Medley ~ Kabob Medley
Choose Bread
Sweet Hawaiian Rolls ~ Corn Bread with Butter & Honey
~ Artisan Dinner Rolls
Cold Beverage Station (2)
Decanters of Iced Beverages with all condiments, clear
plastic cups, beverage napkins
Iced Tea ~ Sweet Tea
Infused Water (Orange or Lemon) ~ Lemonade
(Choose 2)
Cake Cutting
Includes Plastic Plates, Forks and dessert napkin
Vegetarian Option
Grilled Portabella Mushroom, with Pesto & Parmesan or
Large Grilled Vegetable Kabobs - (Count Required)
Premium Options - Additional price per person
Premium Option: Grilled Salmon (Add 2.00)
Premium Protein Option: Certified Black Angus Steaks (Add $10.00)
Premium Protein Option: USDA Prime Rib served with Sour Cream Horseradish (Add $12.00)
All menus above come with BBQ Sauce.
Add-on's priced per person:
Add Entrée: (Standard Protein) $3.75
Add Side: $2.50
Add Premium Side: $3.00
Add Standard Appetizer: $2.50
Add Premium Appetizer: (Protein) $3.00
Sour Cream Horseradish or Chimichurri $1.25
Hot Beverages
Hot Coffee (Regular/Decaf - Usually only ½ the guests) $3.00 p/p
Includes cups, creamers, sweeteners, stir sticks
Hot Beverage Bar:  Hot Coffee & Hot Chocolate (All guests Only) $4.25 p/p
Includes cups, creamers, sweeteners, stir sticks, marshmallows, cinnamon, etc.
Desserts
Fresh Baked Peach Cobbler with Dollop of Whipped Cream $4.25 p/p
Strawberry Shortcake in Parfait Cups with Dollop of Whipped Cream (Seasonal) $4.00 p/p
Dessert Bar: Assorted Petite Desserts & Candy in Apothecary Jars $6.25 p/p
* All Venue charges are subject to 15% service charge and sales tax *
"May the love and happiness you feel today
shine through the years"